Pentel Graphgear 1000 Drafting Pencil 0.5mm
[
PG1015
]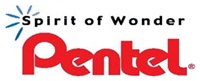 Superior drafting pencil for professionals and enthusiasts. Easily identify your lead type with the built-in lead hardness indicator. Dual-action retractor advances lead and retracts pencil tip to protect lead from breaking. Finely chiseled metallic grip inlaid with soft, latex-free pads.
Pentel Super Hi-Polymer lead is equivalent to a wood case pencil, guaranteed to scan on tests, resists breaking and never needs sharpening.
Check the other range of lead size.
Check the other range of Pentel Graphgear series from here.
Pentel Graphgear 1000 Drafting Pencil 0.5mm
[
PG1015
]
Our Selling Price: NZ $23.60(tax excluded)
Stock:1
Reviews
Dream pencil

I've been wanting this pencil for a few years now because I have been using the same mechanical pencil for about 10 years. Glad that I was able to find it at a good price with reasonable shipping.

1

of

1

viewers said this review is helpful.

Is this review helpful for you?