Uni-ball Kuru Toga Standard Model 0.5mm -Orange
[
M5-450 1P.4
]

The Uni Kuru Toga pencil is truly - and literally - revolutionary. When using a normal mechanical pencil at a typical writing angle, the lead point quickly becomes chisel-shaped. This leads to broader, less precise lines; and crumbling of the resulting sharp edge. The unique gear mechanism of the Kuru Toga rotates the lead every time it is touched to the paper, resulting in a clean cone-shaped tip which is sharp and resistant to breaking. Simple, yet brilliant. The Kuru Toga M5-450 is a 0.5mm mechanical pencil with a fixed lead sleeve. 143mm long, approx 10mm diameter and 10g in weight. The polycarbonate barrel has a gently ridged grip section which is clear in order to show off the 3-gear rotation mechanism. You can see the logo on the centre gear rotating each time the tip is pressed to the writing surface. The lead rotates approximately 9 degrees with each contact - around 40 touches will rotate the lead completely.
There's a replaceable eraser under the push-button. Supplied with 3 HB Uni Nano Dia leads - which are another innovation - being stronger than any previous lead due to some clever nano-technology.
Available in other range of body colour.
Suitable erasers are Uni Mechanical Pencil Eraser Refill Size S.
Check the other range of Kuru Toga series from here.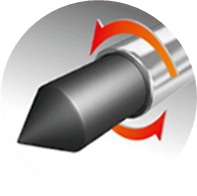 Uni-ball Kuru Toga Standard Model 0.5mm -Orange
[
M5-450 1P.4
]
Our Selling Price: NZ $7.04 [Regular Price: NZ $8.80]
Stock:5