Uni-ball Kuru Toga Standard Model 0.5mm -Black
[
M5-450 1P.24
]

The Uni Kuru Toga pencil is truly - and literally - revolutionary. When using a normal mechanical pencil at a typical writing angle, the lead point quickly becomes chisel-shaped. This leads to broader, less precise lines; and crumbling of the resulting sharp edge. The unique gear mechanism of the Kuru Toga rotates the lead every time it is touched to the paper, resulting in a clean cone-shaped tip which is sharp and resistant to breaking. Simple, yet brilliant. The Kuru Toga M5-450 is a 0.5mm mechanical pencil with a fixed lead sleeve. 143mm long, approx 10mm diameter and 10g in weight. The polycarbonate barrel has a gently ridged grip section which is clear in order to show off the 3-gear rotation mechanism. You can see the logo on the centre gear rotating each time the tip is pressed to the writing surface. The lead rotates approximately 9 degrees with each contact - around 40 touches will rotate the lead completely.
There's a replaceable eraser under the push-button. Supplied with 3 HB Uni Nano Dia leads - which are another innovation - being stronger than any previous lead due to some clever nano-technology.
Available in other range of body colour.
Suitable erasers are Uni Mechanical Pencil Eraser Refill Size S.
Check the other range of Kuru Toga series from here.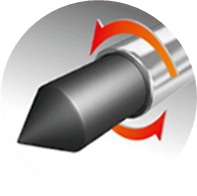 Uni-ball Kuru Toga Standard Model 0.5mm -Black
[
M5-450 1P.24
]
Our Selling Price: NZ $7.04 [Regular Price: NZ $8.80]
Stock:3
Reviews
A very good, afordable mechanical pencil

I'm really enjoying using my Uni-ball Kuru Toga Standard! It may not have the most ergonomic grip, having rounded ridges or undulations in the clear section rather than knurling or a rubber grip, but it still feels good in the hand, and the build quality does seem excellent.

I have noticed that if you draw quite lightly the special rotary action, or 'Kuru Toga Engine', which keeps the graphite tip wearing evenly and the resulting line consistent, doesn't seem to work as well as I imagined it might. But this is understandable as it's activated by the pressing of the graphite to the page. The rotation works fine if you're using a tiny bit more pressure.

Is this review helpful for you?